So, basically I've been questioning this for quite a while now and I finally decided to ask Debbie Moon about it.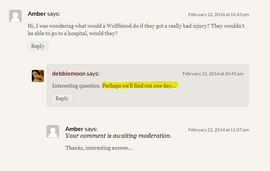 Of course the answer wasn't perfect, but it really got me thinking...
Maybe one day we will see a Wolfblood casualty, who knows?
I imagine Wolfbloods can treat small casualties, like anyone can really. But what about deep cuts, wounds and anything serious?
I'd like to know what you guys think...
Ad blocker interference detected!
Wikia is a free-to-use site that makes money from advertising. We have a modified experience for viewers using ad blockers

Wikia is not accessible if you've made further modifications. Remove the custom ad blocker rule(s) and the page will load as expected.