So, basically I've been questioning this for quite a while now and I finally decided to ask Debbie Moon about it.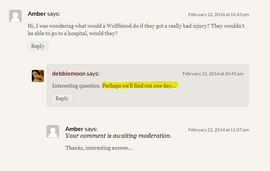 Of course the answer wasn't perfect, but it really got me thinking...
Maybe one day we will see a Wolfblood casualty, who knows?
I imagine Wolfbloods can treat small casualties, like anyone can really. But what about deep cuts, wounds and anything serious?
I'd like to know what you guys think...