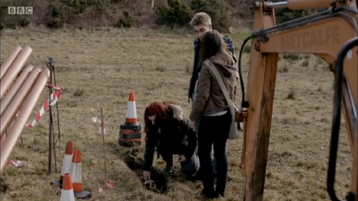 Ansin is an extrasensory ability that some wild wolfbloods can use, in which they claim to be able to sense a vague history of the item that they are using Ansin on, as Jana was able to see that the skeleton they found was an ancestor of Maddy's that was shot and killed. It is like a stronger version of Eolas. Tame wolfbloods usually have no knowledge of this power, but some are aware of it, as Emma Smith compared it to "being psychic", displaying a sense of scepticism to those who use it.
Jana is the only person seen in the show to practice and use it. However, it can be inferred that her father Alric was able to use this ability. Emilia was also stated to know how to use Ansin, but was never shown using it.
Ad blocker interference detected!
Wikia is a free-to-use site that makes money from advertising. We have a modified experience for viewers using ad blockers

Wikia is not accessible if you've made further modifications. Remove the custom ad blocker rule(s) and the page will load as expected.